VW Transporter Workshop and Repair Manuals
The Volkswagen Transporter, based found on the Volkswagen Group's T platform, today inside its fifth generation, pertains with a series of vans yielded over 60 years plus advertised internationally.The T series is today considered an official Volkswagen Group automotive platform.The

Volkswagen VW Transporter 1700 1800 2000 1972 1979 USED

Rare USED manual in good condition some small tears on the bottom back edge - Volkswagen VW Transporter 1700 1800 2000 1972 - 1979 Haynes Owners Service Repair Manual covers: Transporter derivatives. 1.7 litre (1679cc) 1.8 litre (1795cc) 2.0 litre (1970cc).Does NOT cover alternative bodies conversions produced by specialist manufacturers.Inside this manual you will find: Routine Maintenance tune-up procedures engine repair cooling and heating air-conditioning fuel and exhaust emissions control ignition brakes suspension and steering electrical systems and wiring diagrams.Haynes repair manuals can save you money on maintenance and repair bills. Step-by-step procedures and illustrations guide you through every job from basic maintenance and troubleshooting to complete teardown rebuild.
Volkswagen VW Transporter Type 2 1963 - 1967 Owners Service and Repair Manual


Hardback 918 pages - - Volkswagen Transporter Repair Manual 1963 - 1967 Indispensable to anyone interested in the history or restoration of the Transporter this book includes complete coverage of 1200 and 1500 engines dual-circuit brakes and body dimension specifications for all models-even those with sliding sunroof.All factory updates are listed by chassis number and date introduced. bull; Air-cooled Volkswagens (Type 2) covered:Volkswagen Type 2 AmbulanceVolkswagen Type 2 Delivery VanVolkswagen Type 2 KombiVolkswagen Type 2 Micro BusVolkswagen Type 2 Micro Bus De LuxeVolkswagen Type 2 Pick-upTechnical highlights: bull; 1200 and 1500 engines including 34 hp 42 hp and 44 hp all with fresh air heating. bull; Engine bench testing procedures and specifications. bull; ZF and ATE steering gear removal rebuilding and installation. bull; Dual circuit brakes. bull; 6 and 12-volt electrical systems with l
Volkswagen VW Transporter T4 Petrol Diesel 1990 1995 Brooklands Books Ltd UK


Volkswagen Transporter T4 Petrol and Diesel 1990-1995 Owners Service and Repair Workshop Manual Get other VW repair manuals here Volkswagen VW Transporter T4 1990 to 1995 petrol and diesel workshop manual.Engines Covered: 2.0-litre 4-cylinder type AAC Digifant EFI petrol 2.5-litre 5-cylinder type AAF Digifant EFI petrol 1.9-litre 4-cylinder type 1X diesel 2.4-litre 5-cylinder type AAB diesel Transmissions covered: 4-speed manual 5-speed manual Covers: Manual Gearbox only. Short and Long Wheelbase. Van. Caravelle. Bus. 2.0 and 2.5-litre Petrol. 1.9 and 2.4-litre Diesel. Four Cylinder Petrol Engines. Five Cylinder Petrol Engines. Fuel Injection System - Four Cylinder. Fuel Injection System - Five Cylinder. Diesel Engines. Diesel Injection System. Contents: General Information. Four Cylinder Petrol Engines. Five Cylinder Petrol Engines. Ignition System. Lubrication System - Petrol Engines. Cooling System. Fuel Injection System - Four Cylinder. Fuel Injection System - Five Cylinder . Exhaust System. Clutch. Manual Transmission. Drive Shaf
Volkswagen VW Commercial Type 2 Series 1973-1981


VW Volkswagen Commercial Type 2 Kombi series Repair Manual 1973 - 1981 Gregorys Get Other VW Car Repair Manuals click here Volkswagen VW Commercial Type 2 Series 1973 - 1981 Gregorys Owners Service Repair Manual covers the Type 2 Series Commercial Models.Engines covered: 1700cc 1800cc 2000cc (4 cyl) (Includes carburettor and Jetronic fuel systems Manual and Automatic).Covers everything you need to know step by step procedures hundreds of photographs and illustrations routine maintenance wiring diagrams repairs and overhauls and what tools to buy. Gregory s manuals are based on an actual vehicle stripdown and are researched and written by automotive engineers with vast experience.
Volkswagen Air-Cooled 1970 - 1981 Chilton Owners Service and Repair Manual


Softcover - 366 pages - Volkswagen Air-Cooled 1970 - 1981 Chilton Owners Service Repair Manual Covers U.S. and Canadian models including: Volkswagen Beetle Volkswagen Karmann Ghia Volkswagen Transporter Volkswagen Vanagon Volkswagen Fastback Volkswagen Squareback Volkswagen 411 Volkswagen 412Contents: Introduction: About This Manual; Introduction; Vehicle Identification Numbers; Maintenance Techniques Tools And Working Facilities; Buying Parts; Jacking And Towing; Booster Battery (Jump) Starting; Conversion Factors; Automotive Chemicals And Lubricants; Safety First!; Troubleshooting Tune-Up And Routine Maintenance Engine And Overhaul Procedures Cooling Heating And Air-Conditioning Systems Fuel And Exhaust Systems Engine Electrical Systems Emissions Control Systems Transmission Brakes Suspension And Steering Systems Body Chassis Electrical System Wiring DiagramsChilton repair manuals can save you money on maintenance and repair bills. Step-by-step procedures and illustrations guide you through every job from basic maintenance and troubleshooting to complete teardown rebuild.
Volkswagen VW Transporter Commercial Type 2 T3 Caravelle Vanagon 1982 - 1990


Get Other VW Transporter Repair Manuals click here VW Volkswagen Transporter (water-cooled) Petrol 1982 - 1990 Haynes Owners Service Repair Manual covers: Van Pickup and Minibus (Caravelle) with water-cooled engines. Engines Covered: - 1.9 litre (1913cc) (DF DG EY GW) - 2.1 litre (2109cc) (DJ MV SS codes) four cylinder models. Contents: - Routine Maintenance - Tune-Up Procedures - Engine Repair - Cooling And Heating - Air-Conditioning - Fuel And Exhaust - Emissions Control - Ignition Brakes - Suspension And Steering - Electrical Systems - Wiring Diagrams NOTE: Only maintenance adjustment minor repair procedures plus removal and installation are described for the Transmissions.
Original VW Bus


Original VW Bus by Laurence MeredithGet other VW repair manuals hereA comprehensive guide to original factory specification and equipment of VW Split-screen and Bay-window transporters. 265 photographs of 25 vehicles from Germany the UK and the USA illustrate not only the people carriers but the many variations panel van pick-up truck double-cab pick-up and highroof panel van. This is a re-issue of one of the most popular titles from the celebrated Original series accepted by classic car owners buyers and enthusiasts as the definitive source of advice on correct original and authentic specifications and equipment drawn from factory records parts lists and catalogues as well as the accumulated knowledge of the most respected restorers. Integracar tries to provide a large collection of owners
Volkswagen VW Transporter 1954 1967 Service Repair Manual Brooklands Books Ltd UK


Get other VW transporter repair manuals here Volkswagen VW Transporter 1954 - 1967 Owners Workshop Manual is a Re-issue of Autobooks manual.Models Covered: Volkswagen Van Pick-Up 1200cc 1954 - 1964 Volkswagen Kombi Micro-Bus 1200cc 1954 - 1964 Volkswagen Van Pick-Up 1500cc 1963 - 1967 Volkswagen Kombi Micro-Bus 1500cc 1963 - 1967Contents: Engine Fuel System Ignition System Cooling and Heating System Clutch Transmission Rear Axle and Suspension Front Suspension Steering Braking System Electrical System Wiring Diagram for 1200 Transporter (30hp) Wiring Diagram for 1200 Transporter (34hp) Wiring Diagram for Transporter from August 1962 and Chassis Number 971.550 Wiring Diagram for Transporter with 12 Volt System (from August 1966 and Chassis Number 217.000.00
Volkswagen EuroVan Official Factory Repair Manual 1992-1999


The three volumes of this Volkswagen Official Factory Repair Manual present the service and repair information for Volkswagen EuroVan EuroVan MultiVan (including Weekender) and EuroVan CV Camper (commonly known as the Westfalia camper) models sold in the USA and Canada. Engines covered: 2.8 Liter VR6 gasoline (engine code AES) 2.5 Liter 5-cylinder gasoline (engine code AAF ACU) 2.4 Liter diesel (engine code AAB) Transmissions covered: 02B and 02G 5-speed manual transmissions 098 and 01P 4-speed automatic transmissions
Volkswagen VW Transporter T4 Diesel 2000-2004 Service Repair Manual Brooklands Books Ltd UK


Volkswagen Transporter T4 Diesel 2000-2004 Owners Service and Repair Workshop Manual Get other VW repair manuals hereVolkswagen Transporter T4 Diesel Covers Covers all T4 diesel vehicles from 2000 to the end of 2004.Models Covered: Vans - 800 1 000 and 1 200 - Caravelle CL and GL - Bus (long and short wheelbase).Engines Covered: 1.9L 4 Cylinder Diesel (ABL) 2.4L 5 Cylinder Diesel (AJA AAB) 2.5L 5 cylinder TDI Diesel (ACV AHY AJT AUF AXG AXL AYC) Contents: Engine Clutch Transmission Final Drive Drive Shafts Steering Front Suspension Rear Suspension Axle Wheels Tyres Brakes Electrical Bodywork Fault Finding Wiring Diagrams: Wiring Diagram - Battery X Contact Relief Relay Ignition Switch Fuses Wiring Diagram - Heater Blower Blower Switch Two Way Valve and Switch for Fresh Air and Recirculating Air Flap Glovebox Light Wiring Diagram - Immobiliser Cable Distributer for Data Bus Self Diagnosis Connection Wiring Diagram - Dash Panel Insert Oil Pressure and Coolant Temperature Warning Fuel Gauge Revolution Counter Wiring Diagram - Dash Panel Insert Multi-Function Display Rear Wiper Switch Out
Volkswagen VW EuroVan (Transporter) 1992 - 1999 Owners Service and Repair Manual


Softback 2420 pages - - Volkswagen Eurovan: Official Factory Repair Manual 1992 1993 1994 1995 1996 1997 1998 1999 Gasoline Diesel Tdi 5-Cylinder and VR6 Including Multivan and CV.The two volumes of this Volkswagen Official Factory Repair Manual present the service and repair information for Volkswagen EuroVan EuroVan MultiVan (including Weekender) and EuroVan CV Camper (commonly known as Westfalia camper) models sold in the USA and Canada.Engines and transmissions covered.2.8 Liter VR6 gasoline (engine code AES)2.5 Liter 5-cylinder gasoline (engine code AAF ACU)2.5 Liter TDI diesel (engine code ACV)2.4 Liter diesel (engine code AAB)02B and 02G 5-speed manual transmissions098 and 01P 4-speed automatic transmissions.For the professional automotive technician this manual includes the specifications and procedures that were available in an authorized Volkswagen dealer service department as this manual went to press. Two volume set
How to Convert Volkswagen Bus or Van to Camper


How to Convert Volkswagen Bus or Van to Camper by Lindsay PorterGet other VW repair manuals hereThis volume contains detailed step-by-step instructions for converting a VW Transporter van or bus to a Camper. It gives advice on how to choose the best van for your needs and prepare it - how to plan the layout and choose fittings how to fit an elevating roof how to cut panels and fit utilities. Integracar tries to have a sizeable array of owners guides. However owners manuals can sometimes be manufactured for very different nations and the motor vehicles designed for those nations. For this reason not all workshop manuals may be applicable for your individual car. If you have important questions whether or not a selected maintenance manual is best suited for
Volkswagen Transporter Air cooled Petrol 1979 1982 UK


Volkswagen Transporter (Air-cooled) Petrol 1979 - 1982 manual covers: Transporter with air-cooled flat-four engines 1979 - 1982. 1.6 litre (1584cc) and 2.0 litre (1970cc) air-cooled engines. Covers both manual and automatic transmissions. Does NOT cover alternative body or camper conversions produced by specialist manufacturers. Does NOT cover water-cooled or Diesel engines.Inside this manual you will find: Routine Maintenance tune-up procedures engine repair cooling and heating air-conditioning fuel and exhaust emissions control ignition brakes suspension and steering electrical systems and wiring diagrams.Haynes repair manuals can save you money on maintenance and repair bills. Step-by-step procedures and illustrations guide you through every job from basic maintenance and troubleshooting to complete teardown rebuild.
Volkswagen VW Transporter T4 Petrol Only 1996-1999 Brooklands Books Ltd UK


NEW softcover 200 pages VW Volkswagen Transporter T4 Petrol Only 1996 - 1999 Workshop Manual Covers all T4 Petrol Models from January 1996 to 1999.Engines Covered: 1.8 litre 4 Cylinder Carburettor Engines 2.0 litre 4 Cylinder Digifant Fuel Injected Engines 2.5 litre 5 Cylinder Digifant Fuel Injected Engines Models Covered: Van 800 Van 1 000 and Van 1 200 Caravelle CL and GL Bus (long and short wheelbase) Note: Does Not Cover Four Wheel Drive Models Contents: Four Cylinder Petrol Engines Clutch Transmission and Final Drive Drive Shafts Steering Front Suspension Rear Suspension and Rear Axle Wheels and Tyres Brakes Electrical System Five Cylinder Petrol Engines Bodywork Fault Finding Wiring Diagrams: Wiring Diagram - Battery X Contact Relief Valve II Wiring Diagram - Ignition
Volkswagen VW Official workshop manual Station wagon 1968-1979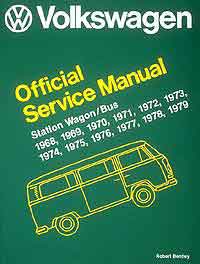 Volkswagen Station Wagon / Bus (Type 2) 1968 - 1979 Service Manual covers Station Wagons Panel Trucks Pickup Trucks Kombis and Campmobiles for the model years 1968 through 1979. This manual was created specifically to cover models built for sale in the United States and Canada.Technical features: Tune-up and oil change: specifications and procedures for all models up through the latest 1979 vehicles Troubleshooting replacing or repairing every component of the electrical system - with complete wiring diagrams Troubleshooting and repair of the electronic fuel injection system used on 1975 and later models Troubleshooting repairing and rebuilding the clutch manual transmission and automatic transmission Rebuilding the carburetor - including dual carburetors Rebuilding disc and drum brakes Rebuilding the front axle and steering gearbox Comprehensive engine repair and rebuilding data - including 1978 and later engines with hydraulic valve lifters Sp
The Volkswagen Transporter, based found on the Volkswagen Group's T platform, today inside its fifth generation, pertains with a series of vans yielded over 60 years plus advertised internationally.
The T series is today considered an official Volkswagen Group automotive platform. plus decades are sequentially called T1, T2, T3, T4 plus T5. Pre-dating the T platform designations, the initially 3 decades were called Type 2, indicating their relative position with the Type 1, or Beetle. As piece of the T platform, the initial 3 decades are retroactively called T1, T2 plus T3.
The Transporter range of light commercial cars include a gamut of variants including vans, minivans, minibuses, pick-ups, campervans. Competitors include the Ford Transit, Toyota Hiace plus Mercedes-Benz Vito.
The Volkswagen Type 2, acknowledged officially, depending about body kind because the Transporter, Kombi plus Microbus, plus informally because the Bus or Camper, is a panel van introduced inside 1950 by German automaker Volkswagen because its 2nd vehicle model – following plus initially deriving from Volkswagen's initial model, the Type 1, it was provided the factory designation Type 2.
As among the forerunners of the contemporary cargo plus passenger vans, the Type 2 gave rise with forward control competitors inside the United States inside the 1960s, including the Ford Econoline, the Dodge A100, as well as the Chevrolet Corvair 95 Corvan, the latter adopting the Type 2's rear-engine configuration. European competition included the 1960s FF design Renault Estafette as well as the FR design Ford Transit. The FF design Citroën H Van though, pre-dated the VW by 3 years. As of January 2010, up-to-date versions of the Type 2 stay inside creation inside global markets— because a passenger van, because a cargo van, plus because a pickup truck.
Like the Beetle, the van has received many nicknames worldwide, including the "microbus", "minibus", plus, due to its recognition throughout the counterculture movement of the 1960s, "Hippie van".
Autocar magazine has announced the T2 might stop manufacturing about December 31, 2013, due to the introduction of more stringent protection laws inside Brazil.
In late 1967, the 2nd generation of the Volkswagen Type 2 was introduced. It was integrated Germany till 1979. In Mexico, the Volkswagen Combi plus Panel were yielded from 1970 with 1994. Models before 1971 are usually called the T2a, when models following 1972 are called the T2b.
This second-generation Type 2 lost its distinctive split front windshield, plus was somewhat bigger plus considerably heavier than its predecessor. Its popular nicknames are Breadloaf plus Bay-window, or Loaf plus Bay for brief. At 1.6 L plus 35 kW DIN, the engine was equally somewhat greater. The brand-new model equally did away with all the swing axle back suspension plus transfer boxes earlier employed with raise ride height. Instead, half-shaft axles fitted with continual velocity joints raised ride height without the wild changes inside camber of the Beetle-based swing axle suspension. The up-to-date Bus transaxle is commonly popular by off-road racers utilizing air-cooled Volkswagen components.
1973–1980 Volkswagen Kombi van
T2 utilized because an ambulance inside Brazil
The T2b was introduced through slow change over 3 years. The initial models showcased rounded bumpers incorporating a step for utilize whenever the door was open, front doorways which opened with 90° within the body, no lip found on the front guards, plus crescent air intakes inside the D-pillars. They moreover had special engine hatches, plus up till 1971 front indicators set low found on the nose instead of significant about either side of the fresh air grille – offering rise with their nickname because "Lower Lights". The 1971 Type 2 showcased a new, 1.6 L engine with double consumption ports about every cylinder head plus was DIN-rated at 37 kW. An significant change came with all the introduction of front disk brakes plus brand-new roadwheels with brake ventilation holes plus flatter hubcaps. 1972's many prominent change had been a bigger engine compartment to match the greater 1.7- with 2.0-litre motors within the Volkswagen Type 4, along with a redesigned back end that eliminated the removable back apron. The air inlets were additionally enlarged to support the improved cooling air demands of the bigger motors.
In 1971 the 1600cc Type 1 engine because employed inside the Beetle, was supplemented with all the 1700cc Type 4 engine – because it was initially tailored for the Type 4 models. European vans kept the possibility of upright enthusiast Type 1 1600 engine nevertheless the 1700 Type 4 became standard for US spec models.
Pre-facelift plus facelifted Volkswagen Kombi vans
In the Type 2, the Type 4 engine was an alternative for the 1972 model year forward. This engine was standard inside models destined for the US plus Canada. Just with all the Type 4 engine did an automatic transmission become accessible for the very first time inside the 1973 model year. Both motors displaced 1.7 L, DIN-rated at 49 kW with all the guide transmission plus 46 kW with all the automatic. The Type 4 engine was enlarged with 1.8 L plus 50 kW DIN for the 1974 model year plus again with 2.0 L plus 52 kW DIN for the 1976 model year. The 1978 2.0 L today showcased hydraulic valve lifters, eliminating the requirement with periodically change the valve clearances because about earlier models. The 1975 plus later U.S. model years received Bosch L-Jetronic electronic gas injection because standard equipment; 1978 was the initially year for electronic ignition, using the hall impact sensor plus digital controller, eliminating maintenance-requiring contact-breaker points. As with all Transporter motors, the focus inside development wasn't about energy, yet about low-end torque. The Type 4 motors were considerably more robust plus durable than the Type 1 machines, especially inside Transporter service.
The year 1971 moreover saw outdoor revisions including relocated front turn indicators, squared off plus set high inside the valance, above the headlights – 1972 saw square-profiled bumpers, that became standard till the finish of the T2 inside 1979. Crash protection improved with this change as a result of a compressible structure behind the front bumper. This meant which the T2b was capable of meeting US protection practices for passenger vehicles of the time, though not needed of vans. The "VW" emblem found on the front valance became somewhat small.
Later model changes were generally mechanical. By 1974, the T2 had gained its final form. Really late inside the T2's shape lifetime, throughout the late 1970s, the initially prototypes of Type 2 vans with four-wheel drive were built plus tested.
The T2c, so-called considering it got a somewhat raised rooftop – by regarding 10 cm – inside the early 1990s, is made for the South American plus Central American markets. It is imported into alternative nations, like the UK.
Because 1991, the T2c has been integrated México with all the water-cooled 1.8 L inline four-cylinder 53 kW carbureted engine, conveniently diagnosed by their big, black-coloured, front-mounted radiators, plus because 1995 with all the 1.6 L air-cooled motors for the Brazilian marketplace.
Because manufacturing of the authentic Beetle was halted inside late 2003 because a 2004 model, the T2 stayed truly the only Volkswagen model with all the conventional air-cooled, rear-mounted boxer engine till the Brazilian model changed with a water-cooled engine about 23 December 2005. There had been a 1.6 L 50 hp water-cooled diesel engined variation of the T2, that was produced from 1981 with 1985 inside Brazil. This variation was surprisingly affordable – values from 15 km/l with 18 km/l are reported – however, it suffered from low performance plus an insufficiently capable cooling program, that led with brief engine existence.
The end of the Volkswagen air-cooled engine about a worldwide basis was marked with a Special Edition Kombi. An exclusive Silver paint job, plus limited edition emblems were used with just 210 units inside late 2005, plus were available because 2006 models.
An aircooled along with a watercooled VW Kombi, prepared inside Brazil. Model years 2005 plus 2006.
More onerous emissions regulations introduced by the Brazilian government for 2006 forced a shift with water-cooled machines. The modern "Flex Fuel" water-cooled engine usually run about petrol and also alcohol. Borrowed within the Volkswagen Fox, the engine is a rear-mounted EA-111 1.4 L 8v Total Flex 1,390 cc, 58 kW about petrol, plus 60 kW whenever run about ethanol, plus 124 N·m torque. This variation has been especially lucrative, inspite of the minor changes prepared with the total T2-bodied car. It nonetheless involves the four-speed transmission, nevertheless with a brand-new final drive ratio it will cruise at 120 km/h at 4,100 rpm. Top speed is 130 km/h. 0 with 100 km/h is accomplished inside 22.7 seconds. Improvements were created with 6.6% greater gas economy, plus almost 2 decibel less sound.
The Volkswagen Type T2 is undoubtedly the greatest model run inside Brazil, having been introduced inside September 1950 because the Volkswagen "Kombi", a name it has kept throughout manufacturing. The fierce competition from European front-wheel drive new generation vans nevertheless cannot match the Kombi's unparalleled cost-benefit equation. Just yielded inside 2 versions, bus or panel van, it has just 1 factory option: the back window defog. As of June 2009, the T2 is made at the Volkswagen Group's São Bernardo do Campo plant at a rate of 97 a day.
As of October 2012, it was announced which the manufacturing of the Brazilian Volkswagen Kombi can end inside 2013. The phaseout of the T2c marks the finish of a era that lasted because 1935 - it is the final creation rear-engined Volkswagen following 78 years.
Earlier vehicle engine development yielded a much greater range of machines than is within normal employ now. Engines have ranged from 1- with 16-cylinder designs with related variations inside total size, fat, engine displacement, plus cylinder bores. Four cylinders plus energy reviews from 19 with 120 hp were followed inside a most of the models. Many three-cylinder, two-stroke-cycle models were built whilst many motors had straight or in-line cylinders. There were many V-type models plus horizontally opposed two- plus four-cylinder makes too. Overhead camshafts were frequently employed. The small machines were commonly air-cooled plus positioned at the back of the vehicle; compression ratios were comparatively low. The 1970s plus 1980s saw an improved interest inside improved gas economy, that caused a return with small V-6 plus four-cylinder layouts, with because various because five valves per cylinder with enhance efficiency. The Bugatti Veyron 16.4 operates with a W16 engine, meaning which 2 V8 cylinder layouts are placed upcoming with every additional with create the W form sharing the same crankshaft.
The biggest internal combustion engine ever built is the Wärtsilä-Sulzer RTA96-C, a 14-cylinder, 2-stroke turbocharged diesel engine which was crafted with energy the Emma Mærsk, the biggest container ship inside the planet. This engine weighs 2,300 tons, plus whenever running at 102 RPM produces 109,000 bhp consuming several 13.7 tons of gas every hr.
A reciprocating engine is usually crafted thus which the moving pistons are flush with all the top of the cylinder block at top dead centre. The combustion room is recessed inside the cylinder head plus commonly contains a single consumption valve along with a single exhaust valve. Many motors utilize a dished piston plus inside this case the combustion room is considered because partly in the cylinder. Various shapes of combustion room have been chosen, like L-head for side-valve engines;"bathtub", "hemispherical" plus "wedge" for overhead valve engines; plus "pent-roof" for motors having 3, 4 or 5 valves per cylinder. The form of the room has a marked impact on force output, efficiency plus emissions; the designer's goals are with burn the mixture because completely because potential whilst avoiding excessive temperatures. This really is best accomplished with a compact instead of elongated room. The consumption valve/port is normally located with provide the mixture a pronounced "swirl" above the increasing piston, improving mixing plus combustion. The form of the piston top equally affects the amount of swirl. Finally, the spark connect should be located able from that the flame front may reach all components of the room at the desired point, normally about 15 levels following top dead centre. It is firmly desirable with avoid narrow crevices where stagnant "end gas" may become caught, because this seems with detonate violently following the key charge, adding small helpful function plus possibly damaging the engine. Also, the residual gases displace area for fresh air/fuel mixture plus might therefore lower the force possible of every firing stroke.
An engine control device, many commonly called the powertrain control component, is a kind of electronic control device which controls a series of actuators about an internal combustion engine with guarantee the maximum running. It does this by reading values from a multitude of sensors in the engine bay, interpreting the information utilizing multidimensional performance maps, plus adjusting the engine actuators accordingly.
Before ECUs, air/fuel mixture, ignition timing, plus idle speed were mechanically set plus dynamically controlled by mechanical plus pneumatic signifies. One of the earliest tries with employ these a unitized plus automated device with manage numerous engine control functions simultaneously was the "Kommandogerät" produced by BMW inside 1939, for their 801 14-cylinder aviation radial engine. This device changed the 6 controls utilized with initiate difficult acceleration with 1 control inside the 801 series-equipped aircraft. But, it had certain problems: it might surge the engine, generating close formation flying of the Fw 190 somewhat difficult, at initial it turned supercharger gears harshly at unique, that may throw the aircraft into a very hazardous stall or angle.
The Volkswagen Transporter T4 is a van yielded by German automaker Volkswagen Commercial Vehicles between 1990 plus 2003, succeeding the Volkswagen Type 2 plus superseded by the Transporter T5.
Introduced inside 1990, the T4 was the initially inside a line of Volkswagen Transporters with have a front-mounted, water-cooled engine. Prompted by the achievement of synonymous moves with their passenger vehicles, Volkswagen had toyed inside the late 1970s with all the idea of changing their air-cooled, rear-engined Type 2 vans with a front-engined, water-cooled shape. The factors for choosing inside 1980 with rather introduce a modern rear-engined Type 2/Vanagon are unclear. So, the introduction of the front-engined design was delayed till the arrival of the T4.
Although its predecessors are equally referred with casually because Transporters, the T4 is the initially Volkswagen van with officially utilize the 'Transporter' title.
After a creation run of almost 14 years, T4 creation ceased inside 2003, creating it next just with the T1 for size of creation inside its house marketplace.
The T4 was yielded inside five standard body types: Panel Van, Kombi Van or Half-Panel, /Multivan, Westfalia plus either a single or double cab — with a pick-up fashion platform behind it.
They were 2 standard wheelbases available; "short" plus "long" along with a range of different rooftop heights, including a pop-top rooftop for campers.
Long plus short-nose
There was 1 main facelift with the T4, inside 1996, whenever a re-shaped, longer front end was introduced. This was required to suit the six-cylinder VR6 engine into the T4's engine bay. Initially, just Caravelles plus Multivans were accessible with all the longer nose, because these were truly the only models accessible with all the VR6 engine. The commercial variants continued with be yielded with all the smaller nose till 1999. But, campers plus additional professional cars yielded between 1994 plus 1999 can have either the brief or the lengthy nose, depending about that model was selected because the base car. In keeping with all the Type 2's naming convention, the brief plus long-nose versions are additionally informally well-known as T4a plus T4b, respectively.
The Transporter T4 was exported with North America from 1992 till 2003 below the moniker Eurovan. In the USA, the brief wheelbase Eurovan 5-cylinder passenger models were just available for model year 1993. Smaller than a standard American delivery van, yet bigger than an American or Japanese passenger minivan, Volkswagen played up its size with all the slogan, "EuroVan: There's nothing mini regarding it". VW just imported those to the USA for 1 year considering sales inside the USA were disappointing, nevertheless sales continued inside Canada plus Mexico. VW imported the brief wheelbase Eurovan 5-cylinder fuel engine passenger models with Canada from 1991 with 1996. The 77 hp 2,4L diesel engine was optional inside Canada between 1993 with 1996. The lengthy wheelbase adaptation was moreover provide inside 1992 just because a 10 seaters CL or GL model trim. Combi plus crwecab pick-up adaptation were moreover obtainable in 1992. A panel variation was available from 1993 with 1997. VW reintroduced the Eurovan passenger models inside the USA for model year 1999 with a VR6 engine because standard, plus discontinued it again with worldwide T4s following 2003. The manual transmission wasn't available inside North America with all the VR6 engine.
The Eurovan Camper by Winnebago was introduced inside the USA plus Canada inside 1995 with all the five-cylinder engine, plus was upgraded with the VR6 for the 1997-2003 models. These were just accessible found on the longer 3,320 mm wheelbase T4. These tiny pop top camper vans are specific inside North America plus have developed a cult following.
Winnebago additionally built 3 little Class C motorhomes with all the forward cab of the T4/Eurovan called the Rialta, Vista, plus Sunstar. The Rialta was obtainable in 1995-1996 with all the five-cylinder engine, inside 1997-2001 with all the AES adaptation of the VR6, plus inside 2002-2005 with all the AXK engine. The Vista plus Sunstar were just yielded inside 2002-2004, all utilizing the AXK engine.
In the U.S., the models were:
the seven-seat Eurovan CL,GL, plus GLS
the Eurovan MV, inside that the 2nd row of seats face the back plus are removable, the 3rd row converts into a bed, a folding table inside the passenger location, window curtains, along with a fluorescent lamp above table.
the Eurovan MV Weekender, an MV and a Westfalia conversion which adds a pop-top rooftop, a 2nd overhead bed, bug screens for side windows plus back hatch, utility power, plus standard fridge.
the Eurovan Camper, that is the extended wheelbase commercial van converted by Winnebago Industries with include a pop-top rooftop, 2 two-person beds, seating for 4, a 1 cubic foot fridge which runs about propane, DC, or AC, a propane furnace, a wardrobe, cabinets, sink with cold water along with a gray water tank, a two-burner propane stove, 2 two-person dinette tables, coach power, home light, as well as the 2 front bucket seats prepared with swivel about with face the dinette/kitchen region. The 2000 EVC is 17 feet long
Diesel machines, unlike gasoline machines, never utilize spark plugs with cause combustion. Instead, they depend only about compression with raise the temperature of the air with a point where the diesel can combust spontaneously whenever introduced with the hot significant stress air. The significant stress plus spray pattern of the diesel ensures a controlled, complete burn. The piston rises, compressing the air inside the cylinder; this causes the air's temperature with rise. By the time the piston reaches the best of its travel path, the temperature inside the cylinder is high. The gas mist is then sprayed into the cylinder; it swiftly combusts, forcing the piston downwards, therefore generating energy. The stress necessary with heat the air to this temperature, nonetheless, necessitates the utilization of the big plus truly sturdy engine block.
The issue posed is the fact that inside cold weather, when the engine has not been running, which the big engine block becomes extremely cold; whenever 1 then tries with begin the engine, the cold engine block works because a heat sink, promptly dissipating the heat produced by the pistons compressing air. The engine is then unable with commence, considering it cannot generate plus keep enough heat for the gas with ignite.
For which cause indirect injected diesel machines are produced with glow-plugs inside every prechamber, plus direct injected diesel motors are produced with glow-plugs inside every combustion room.